SNA Software is pleased to be a sponsor of the Virtual Project Control Summit. We are an innovative veteran-owned small business that provides COTS integrated project management solutions to both government and industry built within an open business intelligence framework that is agnostic to any type or kind of data combined with our unique COTS technology that allows you to capture and transform data from virtually any source. Let us show you how to move from 2D to 3D/4D project management and seamless data capture and utilization.
Complete Integrated Project Analysis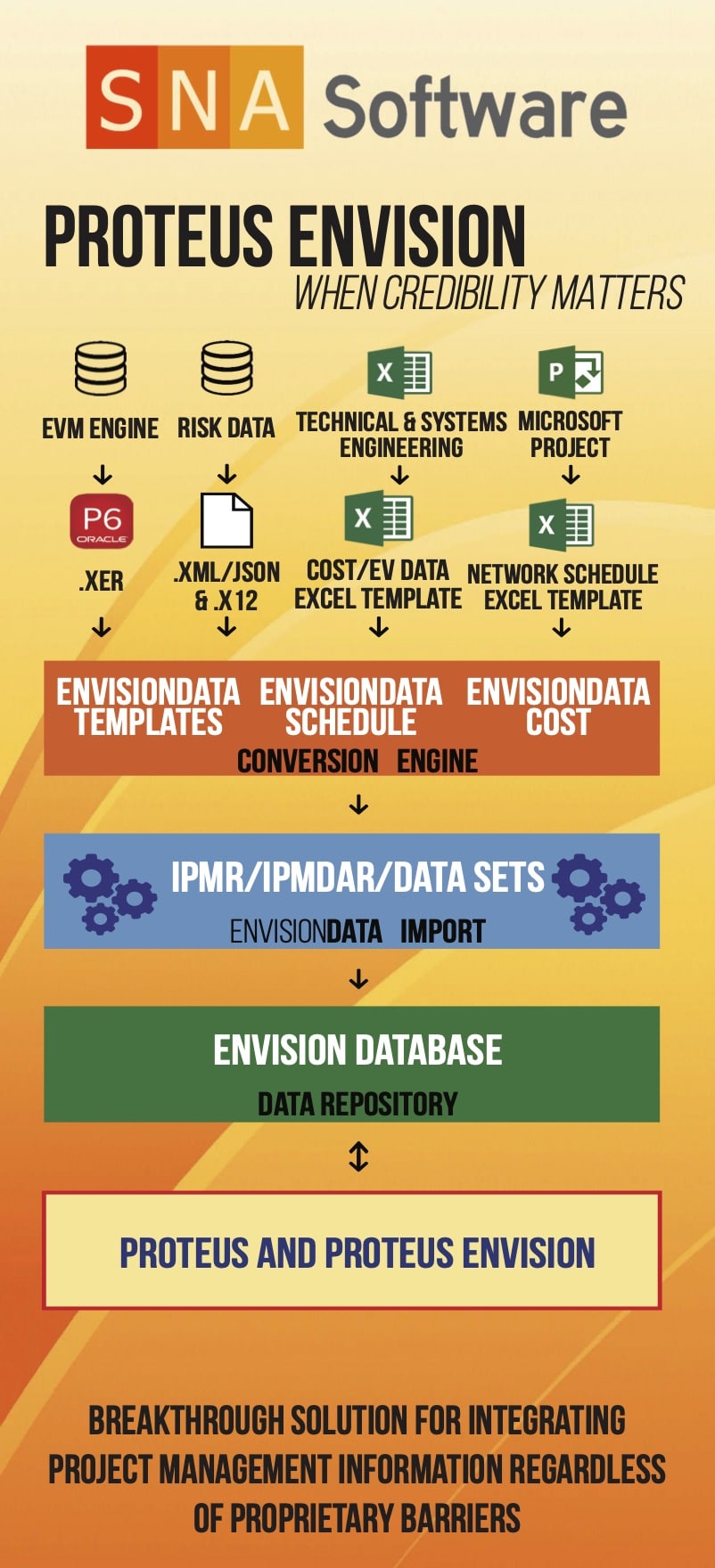 Proteus Envision is the most comprehensive project management and controls toolkit on the market. The application provides an integrated analysis of cost, schedule, and risk performance measures out-of-the-box. Built on a powerful open systems business intelligence platform, any other datasets can be integrated into the project management environment.
Proteus Envision is pre-configured with project controls functionality, views, charts, graphs, and predictive analytics published by all industry, DoD organizations, federal agencies, and professional PM organizations. Proteus Envision comes with native Grid/GANTT, spreadsheet controls, dashboards, charting, graphing, reporting, histograms, geo-mapping, and document viewing capabilities.
The application also supports government compliance and project start baseline reviews out-of-the-box. Capture of work authorization, responsibility assignment matrices, and corrective action plans streamlines project work processes.
Combined with EnvisionData any environment is easily and quickly transformed to meet the needs of 21st century project-focused organizations.
EnvisionData is the most powerful purpose-built COTS data capture and transformation solution serving the project management market today. Access to data–and its proper structure–is the key to defining your potential use of essential information, allowing you to be positioned to transition from 2D to 3D/4D project management.
Compatible with all major project management earned value and scheduling applications including the Deltek suite, Artemis, Oracle P6, Microsoft Project, RTP, as well as Microsoft Excel or any other flat file format.
Unlike data visualization on the fly, EnvisionData's powerful data transformation and reliability assurance measures ensures that data is traceable and credible.
Combined with Proteus Envision's PP/PM functionality, organizations save time, money, and labor--and become more effective--by capturing and transforming their project data into an organizational asset, and utilizing that data so that decision-makers and stakeholders have timely information to take effective and decisive action.
Learn more about SNA Software
SNA Software LLC is a small, veteran-owned software company with corporate offices in Orlando, Florida, and strategically located development and support personnel across the United States. Our reputation is to produce software solutions using the latest technology that has a measurable effect on improving the business processes of our customers through reduced direct labor, improved productivity, and unequaled capabilities.
Visit our Youtube Channel for more in-depth walkthroughs and demonstrations of the software.
Request a Demo